My grandfather was a missionary in China from 1917 to 1936. He once told me of some early Pentecostal missionaries to China. They decided it was unnecessary to study Chinese before traveling because they "spoke in tongues." But when they disembarked in Hong Kong, their abysmal language skills made them a laughing stock.
My grandfather (who was also a Pentecostal missionary) said to me, "They refused to be of the world, which was good, but they completely forgot that they still must live in the world."
Discouraged but determined, they took language classes. One man learned quickly, so they paid for him to study the advanced art of Chinese oratory. He would be their primary preacher.
After months of preparation, the missionaries organized their inaugural evangelistic event in a local town square. They shook their tambourines, sang several songs, and soon a crowd gathered. Their confident preacher began to speak.
To hear a foreigner speak such grand rhetorical Chinese was a novelty, and the crowd grew, but soon the yawns began, hecklers laughed, and the crowd shrunk. A less fluent missionary stood up and urged the crowd to listen. He bumbled his way through his own conversion history, and he stumbled through his story of hearing God for the first time. The crowd listened in silence.
Those missionaries traced their first convert to that botched-up-Chinese testimony.
"After learning to be in the world," my grandfather reflected, "they forgot ­not to trust in it."
Their Struggle Is My Struggle
I completely sympathize with those naïve Pentecostal missionaries to China. I sometimes feel like a drunken man trying to mount his horse. I climb up one side only to fall over on the other. I then scramble up from that side only to slip back to where I began. I just can't find my balance.
My problem lies in marketing my book, Hearing God in Conversation. I wrote it to help all of us (including me) grow in personal intimacy with God: to know him. I believe it can help Christians and non-Christians meet God personally.
And I want that to happen.
It means I must learn Chinese, but I don't want to rest on my Chinese-eloquence either. I neither want to self-promote (over-promote or annoy) but I mustn't ignore promotion completely. (Besides, that marketing stuff is Greek to me anyway.)
The job of believers is to do the work God calls us to. And to leave the results up to him. "Unless the Lord builds the house, those who build it labor in vain" (Ps. 127:1). For me, I think that means mostly to write as God inspires, but it probably also means I must occasionally publicize my book as well.
So here is my bungling attempt at marketing: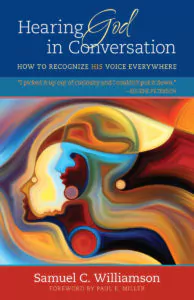 But mostly, let's help each other to live in this world while not living of it.
Sam
P. S. Last Friday (after this article was already written!), my publisher surprised me by offering Hearing God in Conversation totally FREE on Kindle today. In addition, for the rest of the week, they have reduced the Kindle price to $1.99. Get it free August 22, 2016 or really cheap August 23 to 29, 2016. (The print price remains at $14.99.)