A year ago, my wife and I decided to sell the farmhouse we've lived in for twenty-five years. While we were excited about moving into the next chapter of our life, the grown kids were less enthusiastic: our daughter's next blog was entitled, Don't Buy This House.
Nevertheless, we followed all the commonsense guidelines for home-sales:
We decluttered our closets, removed beds and furniture to make the house more spacious, and rented room at a storage facility.
We removed antique wallpaper and painted the walls with neutral colors.
And we updated older appliances and countertops, and revitalized the landscaping.
No bites. Not a nibble. Undaunted, we hired a stager who suggested we suck all personal intimacy from our home. Family photos were banished and personal artwork was expelled. Including the life-size, cowboy-hat-wearing skeleton in my office (in my office, mind you, not my closet).
Next our stager replaced every stick of sitting furniture with pure white pieces: sofas, easy chairs, and love seats. Which we immediately covered with sheets. Our stager styled it Farmhouse Chic. Our kids dubbed it, Farmhouse Sheet.
After hundreds of hours of expectant preparation for the dozens of hopeful showings: Nothing.
Last week my wife and I realized we spent our last twelve months living in limbo, neither here nor there. We were like swimmers treading water, going nowhere.
We've been living a staged life.
It Wasn't Always This Way
In our eagerness to move into the future, we put our present lives on hold. We converted our home into a museum, and placed our pursuits on the bookshelf and our lives in gilded frames on the wall. All perfectly leveled of course.
We used to host dozens of church and family picnics. This year not one. In the past, over thirty people who needed multi-month transitional housing lived with us. This year not one. We used to hold spiritual retreats at our house. This year not one.
We fixed our eyes on the future and merely existed—holding our breath—in the present.
Living in Limbo
We live too much of life in limbos. We plan to begin X only after Y happens; we'll start exercising after Thanksgiving dinner is digested, or we'll write that book on parenting after the kids are grown. And I'll finally learn to like eggplant. When pigs fly.
Last week I prayed the Lord's Prayer, "Give us this day our daily bread," and my house of cards collapsed. I ask God for enough for today, but then I lay my bare-bones down to breathlessly sleep in a crypt (very nicely decorated) waiting to wake tomorrow.
Enough!
My wife and I returned the museum furniture and brought back the livable, loveable stuff; the spare beds, like magic carpets, are flying themselves home. No more Farmhouse Chic, just Farmhouse Now. The kids and grandkids will be here for Christmas.
I plan to host another retreat in February. Picnics in the summer. We may be in home-limbo, but we're going to sleep in it, not through it.
Unless you're interested in buying a beautiful farmhouse. It's no longer a museum, but neither is it a mausoleum; I'll give you my real estate agent's number. She's great.
Just don't tell my daughter.
Sam
P. S. A GREAT Stocking Stuffer idea: don't wait till tomorrow.  The price for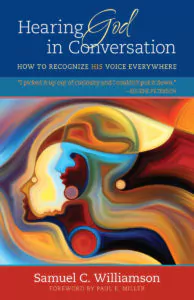 Hearing God in Conversation has just been reduced to $11.35 (down from $14.99).
Buy copies for your family, friends, and colleagues. It's a great fit for those who don't know God and for those who want to know God more.