I've always disliked waiting. As a kid, Christmas Eve was torture. Being on hold with Comcast feels endless (the same sappy song repeating every ninety seconds). Last August Kregel Publications offered to publish my book on Hearing God, but their schedule meant it's release would be delayed ten interminable months.
I think God is teaching me to wait. On him. Of all God's lessons, his command "to wait" bewilders me most. Let him direct me to mow a friend's lawn, or to donate to Doctors Without Borders, or even to repent to my wife. Something—anything!—I can do.
Normal waiting simply requires stomaching the excruciating, unending, intervening passage of time. Tedious monotony, like standing behind a novice in the grocery self-checkout line. You want to yell, "The barcode's right there!" Dreariness. Only thirteen bags of cat litter to go.
Waiting on God is far worse. I have no clue when he'll act or (worse) what he'll do. Moses waited eighty years to lead God's people out of slavery. And when he began, the life of every person he wanted to help spiraled downhill; and not even Moses imagined a parted Red Sea.
Waiting on God requires the inner certainty that his way is best, and that his hiddenness is not absence and that his silence is not impotence.
I'm Tempted to Go-it Alone
When God fails to act in the manner or timetable I think best, I grab for the wheel. He's had his chance and clearly isn't getting it right. I'm tempted to do God's job, after all, I know exactly what should happen and God isn't producing. Maybe I'll just go-it alone.
But Elisabeth Elliot (whose life really didn't go as she planned) once wrote:
God is God, and since He is God He is worthy of my worship and my service. I will find rest nowhere else but in His will, and that will is necessarily infinitely, immeasurably, and unspeakably beyond my largest notions of what He is up to.
Textbooks Don't Help
Waiting on God isn't learned in the lecture hall but the laboratory. The lump of clay doesn't write a PhD. thesis on The Art of Goblet-Making. It lets the skillful fingers of the potter shape it into a chalice.
But along the way, the potter also puts that chalice into the fires of his kiln. It's in the fleeting flames of that forge that I usually reach for my "better way."
This morning I read a passage in which God tells the Israelites not to go to Egypt for military help, that the protection of Pharaoh will be their shame and the shadow of Egypt their humiliation. Like me, the Israelites thought they knew better than God.
But he continues with an invitation,
The Lord waits to be gracious to you,
and therefore he exalts himself to show mercy to you. (Is. 30:18)
I think those words are the tender fingers of a loving artist on a hot summer day. I never before dreamt of God waiting for me. It always seemed the other way around.
Yet God too sits in a furnace, the fires of my determination to go my own way.
Imagine God patiently waiting (like, for eternity) for me to stop grasping for false solutions—my trips to Egypt—for what only he can provide. He waits for the day his Parted-Red-Sea in me will be the obvious outcome of his grace and not the result of my feverish plotting and planning.
So God, what do you think should happen next? I can hardly wait.
Sam
P. S. Please consider buying my new book, Hearing God in Conversation: How to Recognize His Voice Everywhere. Human beings long for nothing more than to hear God. I believe it will help you hear his voice. 
I've included most everything I know about how to hear God.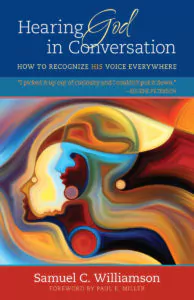 Topics include:
Learning to recognize the sound of God's voice
Hearing God in his silence
How to Brainstorm with God
Hearing God in Scripture
Hearing God for guidance
Eugene Peterson said:
I picked it up and our curiosity and I couldn't put it down.
Pastor Gary Wilkerson (son of David Wilkerson) said:
Sam Williamson has written a remarkable book that teaches both how to hear God's voice in Scripture, and then to hear his voice in every avenue of life. It's filled with humor, insight, practical tips, and sound theology. I can't recommend a better guide than Hearing God in Conversation.
Don Schwager (author of hugely popular website, www.DailyScripture.net) said:
This book is a rare gem full of spiritual wisdom, practical insight, and personal examples of how God converses with us in our daily lives.  I was captivated from the first to the last page.