For the last forty years, my prayer time has started with the Psalms. And for forty years they have alternately given me hope and then pulled that rug of hope from beneath me. They make great promises, but when I pray them with honest self-reflection, the promises fade away.
Look at the hopeful assurances offered:
Though an army encamp against me, my heart shall not fear. (Ps. 27:3)
The Lord preserves the simple. When I was brought low, he saved me. (Ps. 116:6)
The Lord is my Shephard; I shall not want. (Ps. 23:1)
The problem is simple: these promises seem reserved for Saint Francis, not me:
The Lord dealt with me according to my righteousness; according to the cleanness of my hands he rewarded me. (Ps. 18:20)
Give ear to my prayer from lips free of deceit! (Ps. 17:1)
If I have repaid my friend with evil … let the enemy pursue my soul and overtake it, and let him trample my life to the ground. [YIKES!!] (Ps. 7:4-5)
When I try to pray phrases like, "I have trusted in the Lord without wavering," the words dribble out of my mouth and splatter on the floor.
Imagine with Me
During the time of Jesus, the Jews prayed every psalm each month. Assuming the prayer life of Jesus was above average, he probably prayed each psalm a thousand times before he began his ministry. There is good evidence that he had each one memorized.
Jesus could pray the following psalms with a confidence that I don't share:
Vindicate me, O Lord, for I have walked in my integrity. (Ps. 26:1)
I delight to do your will, O my God; your law is within my heart. (Ps. 40:8)
I would like to live my entire life with integrity, but I wouldn't want God's vindication of me to depend on it; I aspire to delight in God's will, but I obsess about my own wishes more often.
Solving the Riddle
Unless we wish to be delusional, self-righteous frauds, it's hard to pray psalms that broadcast our integrity and clean hands. When I read of promises linked to "lips free from deceit," and when I'm honest (in that flickering moment of integrity), my shimmering hope sputters.
But God inspired such psalms to nurture hope. How is it found? We find hope by solving their riddle. David sings,
"My mouth shall speak wisdom; the meditation of my heart shall be understanding. I will solve my riddle to the music of the lyre." (Ps. 49:3-4)
To begin to answer the riddle of the promises: imagine Jesus praying the psalms. For example, envision the hope of Jesus as he recites these verses:
The wicked watches for the righteous and seeks to put him to death. The Lord will not abandon him nor let him be condemned when he is brought to trial. (Ps. 37:32-33)
Immediately we see a problem for Jesus. He prayed those verses hundreds of time. Probably a thousand. Jesus was righteous, the only human ever who could pray that psalm with honesty.
But God did abandon him and God did let him be condemned when he was brought to trial.
So, How Can We Know?
And here is the answer to the riddle. All the promises of God to the righteous (or pure in heart, people of clean hands, and full of integrity), all these promises belong to Jesus. And he gave those blessings to us when he took our curses on himself.
That is how we can know—know without a hint of doubt. God never leaves the righteous in trouble … unless virtuous Jesus took those troubles on himself so he could give us the promises. Now, when we are brought, low we know he will rescue us; God gave Christ's rescue to us.
Now my mouth can pray those psalms of promise "with lips free of [dribbling, self-] deceit."
Sam
P. S. Years ago I created reading plan for the Psalms. I begin each day reading the psalm(s) for that day. You can download a bookmark version of that plan by clicking on this image.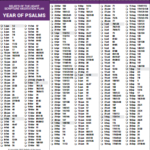 If you and your friends read the same psalms each day, you have the added bonus of sharing insights, observations, and hearing God, all from reading the same psalms together.
P. P. S. For more help "seeing Jesus" in the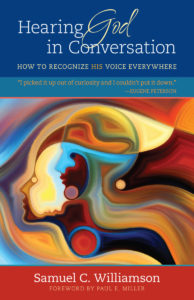 Psalms and Hearing God in Scripture and everywhere, please consider buying Hearing God in Conversation: How to Recognize His Voice Everywhere.
The book is designed to help us recognize God's voice (from all the other voices that fill our minds), and to begin to hear him everyday.