"For God does speak–now one way, now another–though man may not perceive it" (Job 33:14).
Humanity was created to be in a relationship with God; not God as a simple supplement, nor God as mere miracle worker. God created us to know him personally, as a father with a child, friend to friend, and even (breathtakingly intimate) as a husband with a wife.
At the beginning of time, Adam and Eve walked and talked with God in the cool of the garden. That's what we were made for.
When humanity disobeyed God, we didn't just break a rule, we broke a relationship, exactly—exactly!—like when a spouse commits adultery. And that broken connection with God shattered our rapport with him. The root of all relationships is communication and we lost our ability to hear God.
Oswald Chambers said, "If you are not sensitive enough to detect His voice, you will quench it, and your spiritual life will be impaired." Failure to hear God harms our wellbeing!
At immeasurable cost—the cost of the cross—God entered into history and acted to save us. But save us for what? Just to be good little boys and girls? No! The God of the universe saved us to restore our relationship with him. And that means communication…
"…So that we might know him" (Phil. 3:10).
My book Hearing God in Conversation was released early by Amazon last week (surprising my publisher). I wrote it to help reconnect us with the creator, to embrace his repair of our impairment; to hear his voice in our daily lives, to grow in intimacy with the One who loves us.
And to rediscover a conversational relationship with God.
Doesn't He Speak in Scripture?
Many teachers today argue for the Bible's historical accuracy, divine authorship, and full applicability for modern-day life; that it is God-breathed and perfect for all our needs.
I agree completely. But these teachers spend so much time developing their argument that God speaks in Scripture, that they don't tell us how to hear his voice in Scripture.
God wants more than just the right doctrine of Scripture; he wants us to hear his voice there. Five chapters of Hearing God in Conversation are dedicated to learning how to hear God's voice in his Word.
It's one thing to gather information ("For God so loved the world"); it's another thing altogether to hear him whisper "I love you" as he breathes life into Scripture. It's one thing to know about God; it's another thing to know him.
Does He Speak Anywhere Else?
When my wife and I brought our infant children to the church nursery, on any Sunday three or four kids might cry during the service. But my wife always knew when one of those screaming kids was ours. Because she spent so much time with them.
Likewise, when we learn to recognize God's voice in his Word, we find him speaking "time and again and in various ways" (Job 33:14). On the drive to work. In a meeting with the boss. Over coffee with a friend. When disagreeing with a spouse. And when we hear the cry of our child.
Try It, You'll Like It
I wrote Hearing God in Conversation because so many believers I know deeply desire to hear his voice. But they don't know how. It's not that God isn't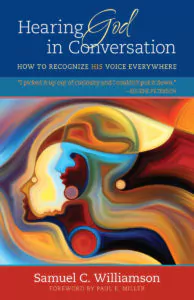 speaking—he is always­ speaking—we haven't learned to recognize his still, small voice amidst the clamor of other voices.
I shamelessly (well, I'm a little embarrassed ) ask you to buy it and try it, Hearing God in Conversation, and to grow in a conversational relationship with God.
Sam
P. S. You are my marketing department and I need your help. People read books because friends like you recommend them. Would you help your friends reconnect with God through learning to hear his voice? I can think of three ways you can help:
Buy Hearing God in Conversation for yourself and for your friends, even non-believers. (A reader told me his "searching" son borrowed his copy, read it, and is praying again.)
Write a review on Amazon and say what it meant to you. You words have influence. When people read your reviews, they feel genuine, the real deal.
Share with others what you learn and hear from God. We all need each other.
P. P. S. Hearing God is for everyone (lest our spiritual life be "impaired"), not just one stream of Christians. Look at the range of backgrounds of believers who recommend this book:
Presbyterian pastor Doug Walker:
Sam Williamson has written an outstanding book, offering a fair and balanced treatment of an ordinarily divisive topic. While I identify with the "canon is closed and God has spoken" camp, I know for certain that God still speaks, because I've heard His still, small voice.  This book helped me to hone my listening skills, and to be mindful of the myriad of ways in which the God of the universe communicates with us.
Pentecostal pastor Gary Wilkerson (son of David Wilkerson):
Sam Williamson has written a remarkable book that teaches both how to hear God's voice in Scripture, and then to hear his voice in every avenue of life. It's filled with humor, insight, practical tips, and sound theology. I can't recommend a better guide than Hearing God in Conversation.
Roman Catholic writer Don Schwager (of popular website www.DailyScripture.net):
This book is a rare gem full of spiritual wisdom, practical insight, and personal examples of how God converses with us in our daily lives.  I was captivated from the first to the last page.  Sam Williamson is a great natural story teller, a sound biblical narrator and armchair theologian, and a wise counselor with spiritual depth and insight.
Methodist pastor Bob Cain:
Sam Williamson's book lays out a very practical presentation of a very crucial spiritual reality: God speaks and we need to hear Him. Why would we ever try to do this some other way?  It is not only realistic for us to believe we can hear God speak, it is absolutely necessary.
Free Church pastor and author Wayne Jacobsen:
If you want to grow in your ability to recognize how God makes himself known to you, I can't recommend a better guide than Samuel Williamson's Hearing God in Conversation.
Artist and Business Coach Jamie Treadwell:
Accessible and real life stuff. His writing sent me on my own journey of discovery of the little and big footprints of God's presence and leading in my life.  I feel as though my "God" sensors have been fined tuned.  This is a book for Christians who know the church pew but not the stirring of God's voice in their life.
Christian Ministry Administrator Lydia Leggett:
I love this book. While visiting my parents, I stole it from my Dad, and promptly devoured it. Sam writes about a topic that can quickly get weird in the hands of other authors. Sam handles it in a way that is all at once sober, thoughtful, biblical, and lighthearted. I have since lent my copy out and I'm anxious to get it back again!
Artist and mother Sarah Ko:
Through alternately hilarious and moving personal stories, Sam Williamson guides us into the many ways we can experience His voice. He teaches us how to identify feelings that are, "nothing more than a poorly digested potato," in order to develop skills to hear God better. Hearing God in Conversation focuses on cultivating a deep connection with a knowable God. "We want information. God wants a conversation." Learn how to begin (or strengthen) the most important dialogue of your life.